SW.110 Snap Wrap Kit
Replacement/Inspection of elastomeric member (i.e. Snapwrap) done without disturbing existing alignment.
Less down time & easy for replacement of Snapwrap.
Couplings ca be supplied with Taper Bushes.
The SW kit comprises of a SW ring, a Snapwrap & a set of screws and washers.
Construction Details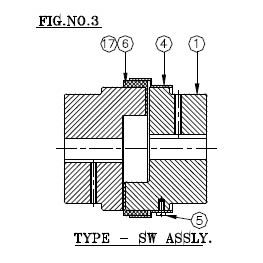 1) Hub, 4) SW Ring, 5) Chease Head Screw, 6) T Cushions, 17) Snapwrap 
---
Please also see our In-House Machining Services for your boring/keying needs, alternatively please click here to send us an email enquiry. Note: Power ratings are based on Service Factor 1.