SWQ.350 100mm Spacer Kit
Spacer type coupling using Snapwrap/T cushions as flexible elements.
Snapwraps are available from SWQ-095 to SWQ-225 and T cushions are available from SWQ-226 to SWQ-350 sizes.
Individual replacement of T cusion reduces replacement cost.
Used where rapid disconnection without disturbing the drive or driven unit is required.
The SW kit comprisesof a SW ring, a Snapwrap & a set of screws and washers.
Construction Details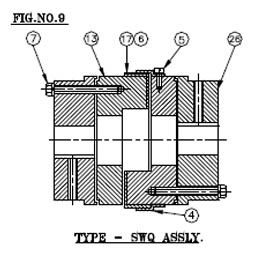 4) SW Ring, 5) Chease Head Screw, 7) Hex. Head Screw, 13) Spacer, 17) Snapwrap, 26) Adapter 
---
Assembly Procedure for SWQ Couplings
After ensuring that the equipments are aligned properly, follow the instructions as given below for assembly of couplings. For SWQ Couplings, take the spacer jaw body assembly with the inside & outside rings without elastomeric elements. Insert spacer assembly in the steps provided in the adapters. Tighten the bolts with the torque that is given. Wrap the snap wrap(s)/insert cushions of required size in the space between jaws. Then slide the outer ring over the snap wrap(s)/cushions accordingly and fix it to the hub with the help of screws/bolts along with the washers.
Please also see our In-House Machining Services for your boring/keying needs, alternatively please click here to send us an email enquiry. Note: Power ratings are based on Service Factor 1.