L.350 Coupling Hub (Pilot Bore)
L.350 Jaw Coupling Hub (Pilot Bore)
Simple in construction. A Complete coupling consists of two hubs & a spider.
Every other spider arm is an idler arm and can be advanced to load carrier jaws. Hence it functions as a spare spider in every coupling.
Spiders can be provided of various materials with different shore hardness to meet application requirements.
Couplings can be supplied with taper bushes.
Construction Details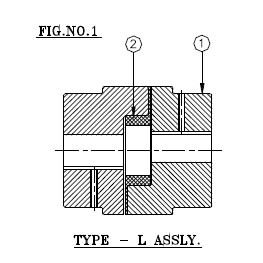 1) Hub, 2) Spider
---
Assembly and Coupling Parts
Please also see our In-House Machining Services for your boring/keying needs, alternatively please click here to send us an email enquiry. Note: Power ratings are based on Service Factor 1.
In order for us to process your order, please state which flanges you require (i.e. F/F, F/H, H/H style or pilot bore).